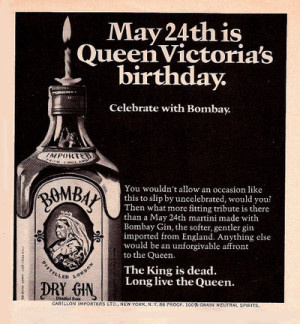 Should you find yourself in need of an excuse to party, look no further…
January
19 — 
Edgar Allan Poe
 (1809-1849) — American author, poet, editor, and literary critic, considered part of the American Romantic Movement. 27 —
Lewis Carroll
 (1832-1898) — English Mathematician, writer and author of 
Alice in Wonderland
.
February
7 —
Charles Dickens
 (1812-1870) — Writer and social critic. Dickens more than any other writer captured the Victorian age, especially some of the poverty that was endemic in Victorian inner cities. 8 — 
Jules Gabriel Verne
 (1828-1905) — French novelist, poet, and playwright best known for his adventure novels and his profound influence on the literary genre of science fiction. 12 —
Charles Darwin
 (1809-1882) — English naturalist. Developed the theory of evolution, creating one of the greatest changes of thought during the Victorian period. 12 —
Abraham Lincoln
 (1809-1865) — President Lincoln fought to keep the United States together during the American civil war and to bring about the abolishment of slavery. 15 —
Susan B. Anthony
 (1820-1906) — American political activist for women and human rights.
March
3 —
Alexander Bell
 (1847-1922) — Scottish scientist credited with inventing the first working telephone. 6 —
Elizabeth Barrett Browning
 (1806-1861) — One of the most prominent English poets of the Victorian era. 14 —
Emily Murphy
 (1868-1933) — Canadian female lawyer. First female magistrate in the British Empire. 19 —
David Livingstone
 (1813-1873) — Explorer. Famously trekked through Africa and became the first European to discover the source of the Nile. A popular Victorian hero, who epitomized the age of 'enlightened Empire' and the quest for discovery.
April
7 —
William Wordsworth
 (1770-1850) — English romantic poet. 9 —
Isambard Kingdom Brunel
 (1806-1859) — English engineer who built the Great Western Railway from Bristol to London and also developed powerful steam ships.
May
7 —
Robert Browning
 (1812-1889) — English poet and playwright famous for dramatic monologues. 12 —
Florence Nightingale
 (1820-1910) — English-Italian statistician and pioneering nurse famous for raising the standards of hospitals and the nursing profession during the Crimean war. 20 —
John Stuart Mill
 (1806-1873) — Utilitarian philosopher and supporter of radical/liberal politics and the emancipation of women. 22 –Sir Arthur Conan Doyle (1859-1930) — A Scottish physician who was best known as the author of the Sherlock Holmes detective stories. 24 —
Queen Victoria
 (1819-1901) — Queen of the United Kingdom (1837-1901). Oversaw extension of British Empire and named Empress of India (1876-1901).
June
9 —
George Stephenson
 (1781-1848) — "Father of the railways" who changed the face of Victorian society, starting with the Liverpool and Manchester Railway, which opened in 1830. 11 —
Millicent Fawcett
 (1847-1929) — British Suffragist who campaigned (through non-violence) for women to have the vote and to improve women's access to higher education
July
15 —
Emily Pankhurst
 (1858-1928) — British suffragette who resorted to militant tactics in an effort to gain women the vote. 30 —
Emily Bronte
 (1818-1848) — Poet and novelist. Author of 
Wuthering Heights
.
August
6 —
Lord Alfred Tennyson
 (1809-1892) — Popular Victorian poet Laureate who wrote 
Charge of the Light Brigade
 and 
In Memoriam A.H.H
. 20 — 
Howard Phillips Lovecraft
 (1890-1937) — American author who achieved posthumous fame through his influential works of horror fiction. 26 —
Francis Albert Augustus Charles Emmanuel
 (1819-1861) — The Prince Consort, husband of Queen Victoria. 30 — 
Mary Wollstonecraft Shelley
 (1797-1851) — English novelist, short story writer, dramatist, essayist, biographer, and travel writer, best known for her Gothic novel 
Frankenstein: or, The Modern Prometheus
.
September
20 —
Sir Titus Salt
 (1803-1876) — A successful businessman in Saltaire, Bradford, West Yorkshire. At a time when many businessmen exploited their workers, Salt built a model village and had a genuine concern for his workforce. 21 — 
Herbert George Wells
 (1866-1946) — Prolific English writer in many genres, including the novel, history, politics, social commentary, textbooks, and rules for war games. 22 —
Michael Faraday
 (1791-1867) — Scientist who pioneered the practical application of electricity. 29 —
Elizabeth Gaskell
 (1810-1865) — British novelist and social historian. Gaskell's novels portray the lives of a cross section of Victorian society.
October
1 —
Annie Besant
 (1847-1933) — Women's activist, political campaigner for working class, Theosophist and Indian nationalist. 16 —
Oscar Wilde
 (1854-1900) — Wit, playwright, poet and author. Wilde was at one time the most popular playwright of his generation, but was sentenced to gaol (jail) after losing a libel case.
November
7 —
Marie Curie
 (1867-1934) — Scientist. 8 — 
Abraham "Bram" Stoker
 (1847-1912) — Irish author known today for his 1897 Gothic novel, 
Dracula
. During his lifetime, he was better known as personal assistant of actor Henry Irving and business manager of the Lyceum Theatre in London. 29 —
Louise Mary Alcott
 (1832-1888) — American writer.
December
5 —
Christina Rossetti
 (1830-1894) — English poet. 10 —
Emily Dickinson
 (1830-1886) — American poet. 10 —
Lady Augusta Ada Byron
 (1815-1852) — Countess of Lovelace. English mathematician and writer chiefly known as the world's first computer programmer for her work on Charles Babbage's Analytical Engine. 21 —
Benjamin Disraeli
 (1804-1881) — British Prime Minister and close friend of Queen Victoria. Associated with 'One Nation' conservatism and the expansion of the British Empire. 26 —
Charles Babbage
 (1791-1871) — British mathematician, philosopher, inventor and mechanical engineer, best remembered for originating the concept of a programmable computer. 27 —
Louis Pasteur
 (1822-1895) — Scientist. 29 —
William Gladstone
 (1809-1898) — Liberal Prime Minister. He served as the Prime Minister on four occasions, and as Chancellor of Exchequer on four occasions. Considered to have the epitome of Victorian moral values. Much of this material is from Pettinger, Tejvan. (G+) 
Famous Victorians
, Oxford,
www.biographyonline.net
, 11/02/2013. The Bombay ad was found at 
http://pzrservices.typepad.com/vintageadvertising/2011/04/
Tags: birthdays, famous personalities, personages